Carlos Alberto Parreira Quits as South Africa Coach
April 21st, 2008 | by: Daryl |

View Comments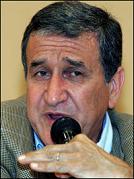 It was the worst kept secret in football over the weekend, but Carlos Alberto Parreira officially quit as South Africa coach today. The official reason is that Parreira wants to spend more time with his wife, who's seriously ill. There's speculation that there's more to it, and that tension between CAP and the South Africa FA played a part… but that doesn't really matter now.
What matters is that the World Cup 2010 hosts are going to have to rethink their long term plan. The big idea was to have World Cup winner Parreira turn South Africa into a team that would do the host nation proud. His plan of blooding young players seemed to backfire at the 2008 Africa Cup of Nations (where an inexperiences Bafana Bafana fell at the first hurdle) but things looked more positive after beating in-form Paraguay 3-0 last month.

The next man will have to choose whether to build on CAP's approach or to recall big names like Beni McCarthy (who CAP ignored for the ACN.) Or maybe somewhere inbetween. Of course the big job now is finding the next man. Word is that CAP has offered to help find a replacement and has forwarded a list of suitable Brazilians to his soon to be former bosses. Abel Braga (Internacional) Joel Santana (Flamengo) and (of course) Luis Felipe Scolari have all been mentioned.
Sven Goran Eriksson's name has been mooted too, which seems odd. Right now the Swede is busy proving that he's much much better at club management than the international game.
Subscribe

International Football News – World Cup Blog RSS Feed

Share
blog comments powered by Disqus