Brazil World Cup Team Profile
May 6th, 2010 | by: Daryl |

View Comments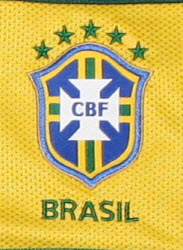 Brazil are the most successful team in World Cup history with five trophies. That's a fact. But like all successful champions, the team is now obsessed with landing number six. Especially after the massive expectation and subsequent disappointment that was the 2006 trip to Germany.
The 2010 version of Brazil boasts some of the best players in the world, but are noticeably less celebrityish than the 2006 team. And also noticeably less chunky.
Brazil will be in Group G, along with North Korea, Cote d'Ivoire and former colonial occupiers Portugal. That game against Portugal comes last in the group, but probably first in the minds of Brazil fans. If there's something to play for in that game, then be sure not to miss it.
Read on for the profile, including a stepover-tastic Robinho video compilation…
Nickname: Known as the Seleção (Selection) or Canarinho (Little Canary).
FIFA World Ranking as of April 28th 2010: #1
Group G Matches:
Brazil vs North Korea – 15th June, 8:30pm, Johannesburg Ellis Park
Brazil vs Cote d'Ivoire – 20th June, 8:30pm, Johannesburg Soccer City
Brazil vs Portugal – 25th June, 4pm, Durban
Buy Brazil World Cup tickets
Kit: That famous canary yellow shirt, blue shorts, white socks.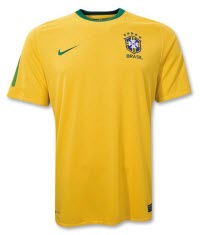 Buy your Brazil World Cup jerseys in our store.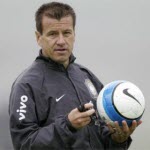 Coach: The one, the only, the Dunga. As a player, he captained Brazil to a World Cup win in 1994. As head coach he cleared away a lot of the old wood from 2006, and has so far won the Copa America, the Confederations Cup, and finished top of South American qualifying. Not bad for your first coaching job. Yet Dunga is still not particularly popular as Brazil coach.
Most of this centers around Brazil's approach under Dunga. He's not your all out attacking type who lives for samba and stepovers. Dunga plays with two defensive mids and a sound tactical plan, leaving less space in the team for fantasy players like Ronaldinho (who has not been a favourite).
My personal opinion is that Dunga's approach is working because it gives a solid defensive foundation for the attacking players to stand on and that you can't argue with a team that keeps winning. But then I'm not a Brazil fan. That said, if Dunga wins the World Cup this year then I'd imagine the complaints will dry up.
Key Players: We're going to have to miss a few out, because Brazil has so much talent to choose from. Starting from the very back, Julio Cesar is having a very respectable season in goal for Inter. More about Julio Cesar on his wife's blog. The two right backs competing for the #2 shirt are Maicon and Dani Alves. Maicon seems to have the edge at the moment, but both are unstoppable going forward.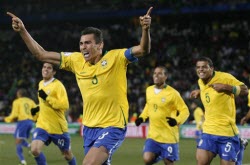 Captain and centre back Lucio (pictured left) is the foundation of the team. At 31 he's possibly at his peak and is the sort of man that other players are happy to follow. He's the defender John Terry wishes he could be. He's also the sort of man you could envision lifting a World Cup above his head.
Going forward, there are all kinds of options. With defensive midfielders like Gilberto Silva and Felipe Melo backing him up, Real Madrid's Kaka will provide the attacking thrust. In 2006 he was somewhat crowded out by Ronaldinho. Not this year, because in 2010 that midfield will be all about Kaka.
The actual forward line will likely feature Robinho out wide, from he'll provide his trademark mix of brilliance, petulance and lollipops. Whatever happens, should make for some good viewing. But arguably the most important man in Brazil's attack is Sevilla striker Luis Fabiano. He'll be the lone proper striker that the like of Robinho and Kaka will revolve around, will definitely score goals, but will be much more of a willing team player than Ronaldo and Adriano were in 2006.
Player with best YouTube video: Because Ronaldinho probably won't make it, the YouTube honours go to Robinho:

Player with best name: I like Alexandre Pato. Not his real name, but still a good one.
Player with best nickname: Has to be Givanildo Vieira de Souza, who plays professional football with the name Hulk on his back.
Qualification: It wasn't perfect. There were defeats to Bolivia and Paraguay mixed in there. But Brazil topped the CONMEBOL table, scoring more goals than anyone else and conceding fewer. Luis Fabiano was second top scorer in South American qualifying with nine goals, plus Kaka and Nilmar both bagged five each.
National Anthem: Hino Nacional Brasileiro (The Brazilian National Anthem)

World Cup History: Been to every World Cup tournament, and won the trophy five teams. Most successful World Cup team in history.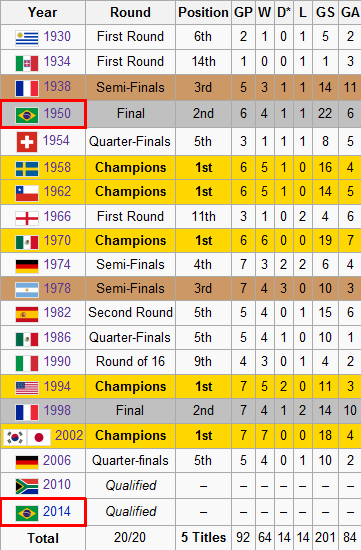 Read the series of posts: Brazil World Cup history.
Expectations: Brazil expects to win this tournament. I'm assuming anything less would be considered a failure.
Squad: TBA.
Blog: Follow Duvel on Brazil World Cup Blog.
- More World Cup 2010 Team Profiles.
Brazil World Cup Guide
Subscribe

International Football News – World Cup Blog RSS Feed

Share
blog comments powered by Disqus