Bert van Marwijk Prevents Robin van Persie From Confirming Dutch Stereotype
June 29th, 2010 | by: Daryl |

View Comments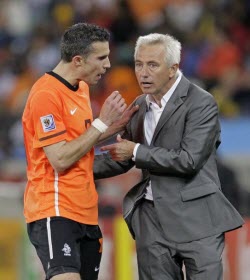 I am not happy with Netherlands forward Robin van Persie right now. But very happy with Netherlands coach Bert van Marwijk. Here's why:
Before the World Cup, I posted my 10 World Cup stereotypes, and argued that said 10 stereotypes were not necessarily accurate. Near the top of that list… #2 The Netherlands team is always arguing in public. Yes, this had happened in the past. But it wasn't happening in 2010. Until now.
Robin van Persie was subbed out in the 80th minute of the Netherlands 2-1 win over Slovakia on Monday, and did not take kindly to leaving the field. There are even reports (via lipreaders) that van Persie complained that Wesley Sneijer and not himself should have been taken off. Which is dangerously close to the start of a squad rift. That's the same Wesley Sneijder who scored four minutes after van Persie left the field by the way.
Spotting a stereotype about to be reinforced, coach Bert van Marwijk stepped in to end the drama:
"I will never accept anything that could upset the next match," Van Marwijk told Dutch national broadcaster NOS.
"I spoke to Robin and he is supposed to have said something about Wesley. I've spoken to Wesley and after that I called the team together … told them what I think and then drew a line under it."
…
"I've always said I don't mind if something happens — that can make you stronger — but I don't like to leave problems dangling," he said. "It's over. For everybody."
I hope van Marwijk's right. Because because many of the stereotypes on this list have been disproved at World Cup 2010 (Germany have looked more inspired than efficient, for example) but also because I want to see the strongest Dutch team possible take on Brazil this Friday.
Subscribe

International Football News – World Cup Blog RSS Feed

Share
blog comments powered by Disqus