Another One Bites The Dust: No World Cup For Michael Essien.
May 27th, 2010 | by: chris |

View Comments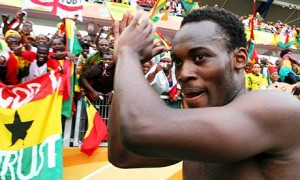 One thing is certain: Ghana has a deep abundance of talented, capable
But they only have one Michael Essien, and he won't be going to the World Cup.
Falling in line with Chelsea midfielders in Group D, the Ghana FA has announced Michael won't recuperate from his injuries in time to take part in the World Cup, which is truly just an awful shame, given his standing as one of Africa's best players in Africa's first World Cup.

And it really is a surprise, though maybe not for those with a finger more firmly on the pulse, but what's staggering is that not only will he miss, he wasn't even close:

Black Stars midfielder, Michael Essien has been ruled out of the 2010 Fifa World Cup.

An evaluation by a combined team of medical experts from the Ghana Football Association and Chelsea Football Club revealed that Essien will not make full recovery until the end of July.
Late July is still a solid six weeks from Ghana's first game which means the chances he would've made it were never as good as you'd have believed.
As for Ghana, this is obviously a huge blow but it's not as though they'll be unprepared, as they've been doing without Essien since the Cup of Nations in January. Of course that's only been one friendly, in which Anthony Annan and Emmanuel Agyemang-Badu took place in midfield with more than just Essien's injury limiting options. They also have Sulley Muntari and Stephen Appiah back, with Kwadwo Asamoah still in the mix.
But none are, unfortunately, Michael Essien.
Subscribe

International Football News – World Cup Blog RSS Feed

Share
blog comments powered by Disqus