Akon to Record World Cup 2010 Anthem
May 12th, 2009 | by: Daryl |

View Comments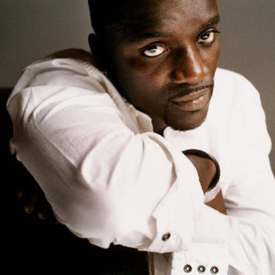 We're about thirteen months away from World Cup 2010, so it's time to start filling in a few details. Details like the official World Cup 2010 anthem, which will apparently be provided by American R&B singer/songwriter/producer Akon.
"I've been hired as musical director for the World Cup," he told the Daily Mirror. "I will be overseeing the World Cup anthem and music at the ceremonies and I'm off to South Africa this week for meetings. I love soccer so it's a great honour."
So far, Akon's quote to the Daily Mirror is the only available news on this. FIFA have yet to confirm, but I think we can assume he's telling the truth.

Which raises the question: why Akon? Why is an American R&B sensation recording the official World Cup 2010 anthem?
A quick look at Akon's Wikipedia page reveals that he's of Senegalese origin and his real full name is Aliaune Damala Bouga Time Puru Nacka Lu Lu Lu Badara Akon Thiam. So that's a plus in the African credibility column.
But he also owns a South African diamond mine and denies the existence of conflict diamonds. "I don't even believe in conflict diamonds," he told The Independent in 2007. "That's just a movie. Think about it. Ain't nobody thought about nothing about no conflict diamonds until the movie came out."
Hmmm. So that's a possible negative in the human being column.
Whatever Akon comes up with should at least be a departure from the last two official anthems. Here are the 2006 and 2002 World Cup anthems, by Herbert Grönemeyer and Vangelis respectively. Neither of whom – as far as I'm aware – own South African diamond mines.
Herbert Grönemeyer – Celebrate The Day – 2006 World Cup Anthem

Vangelis – 2002 World Cup Anthem

And for those who (like me) weren't all that familiar with Akon's oeuvre before today, here's the karaoke video version of his 2006 hit Smack That (featuring Eminem)…
Subscribe

International Football News – World Cup Blog RSS Feed

Share
blog comments powered by Disqus