World Cup 2010 Wall Chart
February 23rd, 2010 |

View Comments
Are you looking forward to World Cup 2010? Need a handy guide to the tournament schedule? Do you have walls where you live? Then you'll be pleased to see World Cup Blog's World Cup 2010 Wall Chart, which you're welcome to print out and pin up. You even have the option of two different World Cup 2010 Wall Charts, both of which contain all the schedule and kickoff time information you could need.
Wall Chart number one is what we like to call the "classic" version, where you simply fill in the scores as the tournament progresses. Wall Chart number two is the two page version, in more of a "bracket" style, with space to fill in the final group stage standings, followed by a March Madness style bracket for the knockout round.
While you are here, what else do you need?
Click below for the PDF versions of the two World Cup wall charts.
1. World Cup 2010 Wall Chart – Classic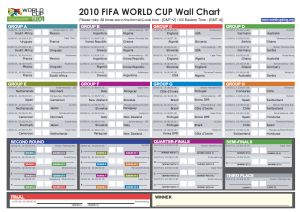 Subscribe

International Football News – World Cup Blog RSS Feed

Share
blog comments powered by Disqus