World Cup Moments: Philipp Lahm Kicks Off The World Cup Properly, 2006.
March 17th, 2010 | by: chris |

View Comments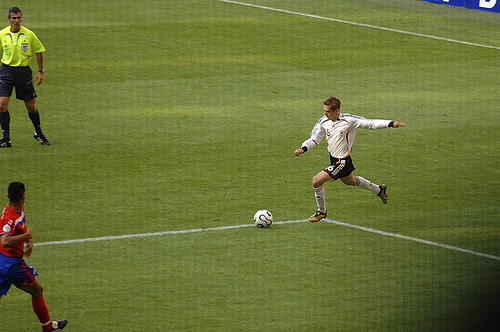 When discussing the history of any sport, any talk of the "greatness" is bound to be met with a quick hop in a time machine, going back into the annuls annals where myth and storytelling often displace fact and reality to the back seat. And this was necessary in a time when most could only follow sport through the words of others; words which were often embellished, contorted, polished, creating an aura which far superseded the event. Similar to the children's game which starts with a simple sentence at one end of the room and morphs into something entirely different by the time the exercise ends.
A lot of times, great moments are much simpler than we think. Sometimes great moments are just that: moments. Moments without grand results, without a decisive impact, without parades, and without babies being made on the streets. Merely a single moment in time meant to be enjoyed. And equally as often, these moments are right underneath our noses.

Philipp Lahm had been injured in the buildup to the World Cup, you may remember, and he was still in a cast when Germany met up with Costa Rica to kickoff the 2006 World Cup in Munich. This never put his spot into doubt, really, but you also didn't meant you would expect that, a mere five minutes into arguably the biggest game of his life, he would send the crowd into an uproar. His crowd in his country. It was the perfect opening to what would become a wonderful World Cup run for Germany.
It was also a brilliant goal from a mite of a man who's long been mentioned in the discussion of the world's best fullbacks. And it was proof that great moments don't need to end with a trophy.
But perhaps greatest of all are the opening seconds of that movie, in which Lukas Podolski hurries to throw the ball in five minutes into a group game, yet acting like it was the last minute of injury time in the final with Germany down a goal. And this would be the part where we open up the forum to German fans for jokes, potshots and everything in between.
[The genius stroke of photographic timing above found on flickr.]

- You can find more World Cup Moments here.
Subscribe

International Football News – World Cup Blog RSS Feed

Share
blog comments powered by Disqus