The New Thousand Year War: Zinedine Zidane v Marco Materazzi.
March 1st, 2010 | by: chris |

View Comments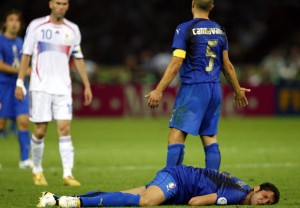 At this very moment we have 101 days, 1 hour, 47 minutes and 19…18..17 seconds until South Africa kicks off according to the official countdown on FIFA's World Cup websitestraveganza.
And yet as we grow nearer to shedding a digit from the number of days remaining – from three to two – you may have noticed pictures of Zinedine Zidane accompanying headlines this morning. Why? Who the hell knows, but get ready for a World Cup bombardment of Zidane v Materazzi: Four Years On.

Actually we do know why: a journalist posed a question. This is how all problems get started, I'm sure of it, and Zidane, to his credit, responded honestly – honestly enough to say that he'd prefer death to forgiving Marco Materazzi.
No drama here.

"Nothing changes, but I forgive everyone, not him though. Never, never… It would be a dishonour to myself. I would rather die.

"I don't blame myself for what happened, but if I say sorry it would be admitting that what Materazzi did was normal.

"He insulted me and he insulted my mother, who was ill, more than once and I didn't respond. But then, I did it.

"If he were a decent guy, a good lad like Kaka for instance then I would have apologised, but not this."
I've always thought the mother/sister/wife insult was rather complimentary, as it shows the opponent thinks you're worthy enough of necessitating mind games. And how ill are we talking? 'Deathbed' ill or 'ate some dodgy kung pao' ill? These are two entirely different scenarios – most of the time.
So when do you suppose we'll first hear this during the opening match of World Cup 2010 between South Africa and Mexico? I'll give it an honest ten minutes, less if watching ITV. Something to mention the day's schedule, Uruguay versus France will follow the opener, before someone in the booth descends into "and of course we have to talk about Zidane" when of course they don't.
From there every red card will follow with a ZZ reference, every French foul a snarky quip and every headbutt a thirty minute Zizou montage. It was the biggest story of 2006, and there's every chance it'll be the most discussed at 2010. It's football's Thousand Year War – it'll never end.
So just kiss and make up already.
Subscribe

International Football News – World Cup Blog RSS Feed

Share
blog comments powered by Disqus