Vuvuzela – Love it or hate it at the World Cup?
June 17th, 2010 |

View Comments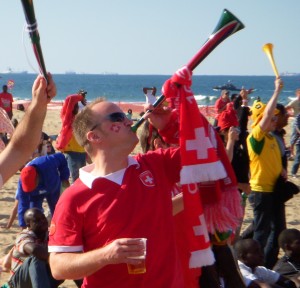 The vuvuzela. Unique sound of an African World Cup or incessant annoyance akin to the sound of very angry bees?
Much has been made about this being the first World Cup held on African soil. Many wondered if South Africa would be ready and if they could handle the eyes of the world upon them. So far they have handled the attention without incident and the stadiums have been incredible.
What has been a talking point, beyond the football, that has got everyone all riled up is the vuvuzela, the horn that buzzes constantly during the game. Players have complained they cannot hear each other. Fans have complained about the TV commentary being hard to hear, or the atmosphere of games ruined as TV networks dull the sound of the horn (and therefore the crowd).
Many have called for the vuvuzela to be banned, but FIFA has officially has come out and said it will not silence the horns. In general it seems like the biggest critics are those watching at home. The fans in the stadiums seem to either love or tolerate them. We've even seen foreign fans using them as beer bongs!
Perhaps the critics should try the health angle in their arguments. Some believe that it spreads cold and flu.
Buy a Vuvuzela (and earn the hatred of your friends)
More articles about the Vuvuzela
* Vuvuzela Files: Poor Blowing Techniques Can Cause Injury
* Finding Other Uses For The Vuvuzela
* Giant Vuvuzela from hell
* Death to the Vuvuzela
* Vuvuzela or Jabulani – Which Would You Rather FIFA Ban?
* The Vuvuzela Song
* The World Cup Of Hearing Damage
* In Defence of the Vuvuzela…
* What's with the vuvuzela?
* Wikipedia: Vuvuzela
* How to Silence Vuvuzela Horns in World Cup Broadcasts
Subscribe

International Football News – World Cup Blog RSS Feed

Share
blog comments powered by Disqus