UEFA to Ukraine: Try Harder
May 14th, 2009 | by: Daryl |

Comments Off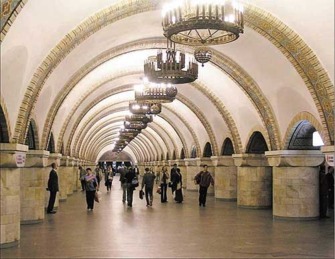 The UEFA Executive Committee met in Bucharest yesterday (presumably over a very nice buffet lunch) to discuss infratructure progress potential Poland and Ukraine's eight (four each) potential Euro 2012 host cities.
The results were… mixed. Poland got a pass, but Ukraine pretty much got yelled at.

Four cities in Poland were officially confirmed: Gdansk, Poznan, Warsaw, and Wroclaw (no Krakow, which was surprisingly only a reserve city).
UEFA believes the four confirmed cities…
"are currently in a position to fulfil the conditions for hosting matches at UEFA EURO 2012™ despite the huge amount of work that still must be undertaken to guarantee the full and proper implementation of the tournament requirements."
So not exactly a glowing endorsement, but nice to have it rubberstamped.
The news was not so good for Ukraine, where just one city – Kyiv – was confirmed. But only as a group stage, quarter-final and semi-final host, not for the the final. Even worse, Ukraine's three other planned host cities (Donetsk, Lviv and Kharkiv) were very conspicuously not confirmed.
UEFA's standards are probably pretty high. Kyiv's subway has 'effin chandeliers (pictured above) so it can't be all that bad. But their judgment on Ukraine's infrastructure didn't beat around the bush:
"The comprehensive review showed important shortcomings regarding infrastructure in all Ukrainian cities in question. Significant work must be undertaken to meet the minimum requirements for an event the size of a final tournament of the UEFA European Championship."
When you consider that Poland's two reserve cities (Krakow and Chorzow) could also have been confirmed if needed, it's possible that the balance of four cities for each co-host might suddenly become five-three or six-two in Poland's favour, unless Ukraine gets things up to scratch.
Nothing to panic about just yet though. UEFA has set a final deadline of November 30th, 2009 (about six months from now) before doing another review, and Michel Platini has made it very clear that Euro 2012 will almost definitely be happening in Poland & Ukraine, no matter what:
"We must respect the decision of the Executive Committee of 18 April 2007, when it awarded the organisation of the European Football Championship 2012 to Poland and Ukraine. This was again emphasised by the UEFA Congress in March 2009, when it stressed the importance that the staging of this world-class event will have to further promote and develop football in the eastern part of Europe."
Finally, some semi-important financial news for those planning a trip to Euro 2012: Due to the impact of the global recession/depression/meltdown/apocalypse, it's very possible that Poland won't be switching currencies and adopting the euro in January 2012 as planned.
Subscribe

International Football News – World Cup Blog RSS Feed

Share
Comments are closed