Mario Balotelli To Star As Rambo
May 30th, 2012 | by: chris |

Comments Off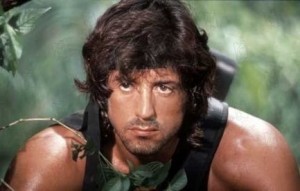 Someone with more Photoshop skills needs be on the task right about now.
With the concerns of racism in Polkraine during the Euros running long in the media, a number of players have come out with their thoughts on the situation. As ever, Mario Balotelli's are worth several photos, a graphic novel and a legal consultation.
He's never boring, that's for damn sure.

Mario. Rambo. Same thing.
Balotelli, who is preparing with the Italian team for their Group C fixtures, said: "I will not accept racism at all. It's unacceptable. If someone throws a banana at me in the street, I will go to jail, because I will kill them."

The 21-year-old is not a stranger to racism and was once pelted with bananas in a Rome bar before the European Under-21 Championships in June 2009. "It was lucky that the police arrived quickly because, I swear, I would have beaten them. I would have really destroyed them. I hope it never happens again." He has been the victim of racist abuse on several occasions – most recently in February when Porto were fined over the behaviour of their supporters in a Europa League tie against City.

"Let's see what happens at the Euros," he added. "I hope it will pass without a problem."
He also said, with far less violent imagery, that he'd simply walk off the pitch and go home. A more likely result than retaliatory mass murder.
See, the problem with this is Mario isn't universally adored – very much a love or hate character – and this may elicit racism from those who aren't racist at all, just to send him home.
This is clearly where the real Rambo is needed.
Subscribe

International Football News – World Cup Blog RSS Feed

Share
Comments are closed