Italy v Serbia Delayed Due To Rocks, Fire Hoses & Good Old Fashioned Hooliganism
October 12th, 2010 | by: chris |

View Comments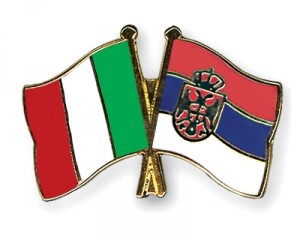 Things are not completely kosher inside the Serbian camp. A number of issues, starting at the top with the coaching position, have contributed to a less-than-ideal start to Euro 2012 qualifying. Serbian fans would probably use stronger words to describe the 3-1 loss to Estonia in Belgrade on Friday, and it's tough to disagree.
So they've resorted to taking it out on the team themselves.

At the moment Italy v Serbia is delayed, the riot police is four deep in front of the Serbian section of the stadium, a fire hose has been hauled out to the pitch (no, not Makelele) and Serbia are looking at the backup keeper because Vladimir Stojkovic was injured by his own fans on the way to the stadium. (Other reports say he asked not to play out of fear of the ultras.)

It is reported the fans threw rocks and fireworks at the team bus, hitting goalkeeper Stojkovic. He was injured and therefore not even on the bench for the game.

Inside the stadium the problems deteriorated, as hooligans in ski masks climbed on top of the plexiglass walls and clinically cut the protective net with pliers.

They also threw flares and objects across to the Italian area of the stadium and on to the pitch.

It took a good 20 minutes before the referee, who had come out to begin the match, walked back into the tunnel with the teams.

Riot police were called, but the Serbian fans had no intention of pulling back and set fire to flags.
I can't imagine any of that is going to help matters.
This is very much live at the time, so here's a link if you'd like to eschew football for some good old fashioned hooliganism.
Never much doubt this was going to be one of the most exciting dates on the Euro 2012 qualifying calendar.
Update: The game has begun, nearly 45 minutes later.
Update: After all of 7 minutes, the game is delayed again due to a multitude of flairs on the pitch.
Holding this at an "English-style" stadium wasn't brilliant.

Update: Game canceled.
"Highlights":
Subscribe

International Football News – World Cup Blog RSS Feed

Share
blog comments powered by Disqus