Euro 2008 Wall Chart on World Cup Blog
April 17th, 2008 | by: Daryl |

View Comments
UPDATE: Click here for our World Cup 2010 Wall Chart.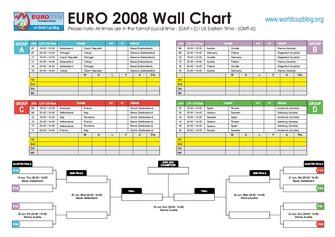 We may have mentioned this before, but Euro 2008 is coming. We're going to have the whole thing covered on our Euro 2008 page, with team blogs, liveblogs and all the usual World Cup Blog shenanigans.
We've also got a free Euro 2008 Wall Chart for you. Just click on the image above to get the full size version, which you can then print out and pin to a wall. It's got the complete tournament schedule with kick off times both local and US.
If you're unfamiliar with tournament wallcharts, here's what you do: As the games are played you enter the scores in the boxes provided, and then fill out the bracket for the knockout stage once you know who's qualified. It's a great way to stay on top of what's happening at Euro 2008, and also a nice little souvenir for afterwards.

Also, we still have a couple openings for Euro 2008 team bloggers. Right now we're looking for someone to captain the Russia blog and the Czech Republic blog, and we might even have an extra spot on the Spain blog should the right person come along. If interested, give our blogger guidelines a read and get in touch.
Subscribe

International Football News – World Cup Blog RSS Feed

Share
blog comments powered by Disqus