Attacking the Referee Gets You 20 Days in Jail
December 11th, 2007 | by: Daryl |

View Comments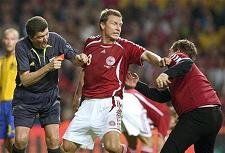 Remember this bit of madness from June? It's 3-3 in the closing minutes of the Denmark vs Sweden Euro 2008 qualifier. Denmarks' Christian Poulsen punches Sweden's Markus Rosenberg in his special spot, so German referee Herbert Fandel (left) quite rightly awards Sweden a penalty and sends Poulsen for an early bath. But one Drunken Danish fan (right) disagrees, storms the pitch and tries to attack Fandel.
The referee is saved from a Carlsberg-fuelled beating by Denmark's Michael Gravgaard (center) but the match is abandoned and awarded to Sweden 3-0. Fast forward six months and Sweden have qualified for Euro 2008, Denmark have not, and the still unnamed Denmark fan has just been sentenced to 20 days in jail where – unfortunately for him – Gravgaard will not be on hand to prevent any further violence.
Video after the jump.
Subscribe

International Football News – World Cup Blog RSS Feed

Share
blog comments powered by Disqus