The Beginning of the End for European Coaches in Africa?
February 1st, 2008 | by: Daryl |

View Comments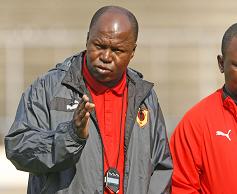 As usual, the majority of the coaches at the 2008 Africa Cup of Nations were not African, but European. Six out of the 16 coaches were French, three were German, one was Polish, one Dutch. There was also a Brazilian.
Angola – Luís Oliveira Gonçalves (Angolan)
Benin – Reinhard Fabisch (German)
Côte d'Ivoire – Gérard Gili (French)
Cameroon – Otto Pfister (German)
Egypt – Hassan Shehata (Egyptian)
Ghana – Claude Le Roy (French)
Guinea – Robert Nouzaret (French)
Mali – Jean-François Jodar (French)
Morocco – Henri Michel (French)
Namibia – Arie Schans (Dutch)
Nigeria – Berti Vogts (German)
Senegal – Henryk Kasperczak (Polish) [asst. Lamine N'Diaye took over for final game]
South Africa – Carlos Alberto Parreira (Brazilian)
Sudan – Mohamed Abdallah (Sudanese)
Tunisia – Roger Lemerre (French)
Zambia – Patrick Phiri (Zambian)
That leaves just four coaches who had the same passports as their players: Angola's Luís Oliveira Gonçalves (pictured,) Egypt's Hassan Shehata, Sudan's Mohamed Abdallah and Zambia's Patrick Phiri.

The problem isn't just that so many coaches are non-African, it's that it's the same few men. The likes of Otto Pfister, Claude Le Roy and Henri Michel have coached multiple African teams and seem to be on a sort of rotation policy between them. All very nice for them, but because there's this strange pool of "For Hire" European coaches, opportunities for African coaches are hard to come by.
But maybe Africa Cup of Nations 2008 marks a turning point. Maybe. High profile foreign coaches have failed at this tournament. Berti Vogts may have qualified for the quarter-finals, but the Geman's spell in charge of Nigeria has still been a bit of a shambles. Henryk Kasperczak didn't even make it through all three games before packing his bags and leaving his assistant in charge. Highly paid World Cup winner Carlos Alberto Parreira and his experimental South African team finished bottom of Group D. But Henri Michel is the best example. Moroccan Mohammed Fakhir had led the Atlas Lions through Africa Cup of Nations 2008 qualification perfectly well, but the Moroccan FA decided to push fakhir aside and rehire Frenchman Michel, who they had already fired once back in 2000. The result was a team that crashed out of a Group A that was there for the taking. They must surely be regretting that decision.
On the other side of the coin two of the four African coaches made it to the quarter-finals. Mohamed Abdallah's Sudan were never going to make it, but Patrick Phiri's Zambia put up a good fight and played some decent football. Hassan Shehata's Egypt look to be one of the favourites while Luís Oliveira Gonçalves' Angola have been the tournament's surprise package, making the knockout stages for the first time.
For me, Luís Oliveira Gonçalves is the big hope for African coaches. His success shows that smaller nations can be successful by appointing native coaches, especially if they're familiar with the set-up. Gonçalves was coach of Angola's U-20 team before taking the national team job and is successfully integrating those younger players into the senior team now.
So I'm hoping Egypt and Angola go far in this tournament, and I'm hoping the various African national football associations pay attention. You can't always buy success with a mercenary European coach, but you can build for the future with an African coach.
Subscribe

International Football News – World Cup Blog RSS Feed

Share
blog comments powered by Disqus