South Africa vs Tunisia – LiveBlog
January 27th, 2008 | by: Daryl |

View Comments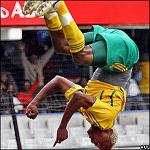 Angola just busted Africa Cup of Nations Group D wide open by beating Senegal 3-1. Now the other two teams face-off to see who can join the Palancas Negras on four ponts. Tunisia are probably favourites, but Carlos Alberto Parreira's experiment with youth could still pay off for Banfana Bafana.
South Africa 1-3 Tunisia
Mphela '87——————————–Dos Santos 8′ 32′
——————————————Ben Saada '30


Group D
Date: January 27
Kick-off: 1930 GMT
Venue: Tamale Stadium, Tamale
FULL-TIME Tunisia get a deserved 3-1 win, but South Africa at least got an 87th minute consolation. Some very silly defending cost South Africa in the first half.
89′ South Africa looks inspired now, zipping passes about. Unfortunately there are just 3 minutes of stoppage time to play.
88′ Josephs is out to clear a long ball with a header. He's now my favourite sweeper-keeper at the Africa Cup of Nations.
87′ GOAL! Bafana Bafana. Pienaar works himself a bit of space and shoots/crosses. His shot/cross is going wide until Mphela pokes a toe out and it goes in. 3-1.
82′ Van Heerden finds the ball at his feet eight yards out, but shoots over.
80′ Jemaa (who scored that great opening goal against Senegal) comes on for Chikhaoui. That was more like it today from Chickhaoui, now we can see what all the hype was about.
78′ Modise bends one at the Tunisian goal but it's just over. Sort of sad that the Bafana Bafana are reduced to optimistic long-range shooting.
76′ Ben Dhifallah is the latest in a long line of Tunisians to burn Morris for pace. Bad day for that man. Dhifallah goes for a swervy out side of the boot strike from the touchline but doesn't quite get it right.
74′ Pienaar flashes a shot pretty close, but not close enough.
73′ Chikhaoui does something special enough to draw a cheer from the crowd. I didn't see it because I was typing. Damn you LiveBlogging!
73′ Morris launches a clearance straight out. If only he'd done that earlier then it wouldn't have been 3-0.
66′ Dos Santos is subbed off! That Roger Lemerre is a mean old man.
64′ Dos Santos fluffs a hat-trick! Chikhaoui burned Morris down the left (the guy is quick) and squared it for Dos Santos at the far post, but though Dos Santos slid in and made contact he got the ball caught under his legs. Unlucky that man.
60′ Not too much happening here. South Africa don't seem capable of really worrying Tunisia and Lemerre's team seem happy with 3-0. Even the JumpTV guy sounds a bit bored and he's usually loving it. That third goal really killed this game for neutrals. Though I'm sure Tunisia fans are enjoying it!
51′ Frej gets a yellow for time-wasting because he doesn't take a fre-kick fast enough. Overzealous from the ref, there's no way Tunisia would bother timewasting at 3-0 up.
46′ Chikhaoui gets down the right flank with his pace, but Josephs comes out to clear in a sweeper-keeper stylee.
45′ Second half is underway.
-South Africa's goalscoring hero Elrion Van Heerden is on now. Too late though. Hindsight is 20-20, but he should have started.
-Teams are back out. South Africa were out way early and had a big team talk on the pitch.
HALF-TIME The whistle wins and there's no corner. 3-0 to Tunisia at the break and – hate to say it but it's true – South Africa look finished.
45+ South Africa win a corner and it's a race against the whistle to take it…
One minute of stoppage time.
42′ South Africa clear with a nice looking but ultimately rubbish overhead kick. Whoever that was could have taken his time. That right there is what inexperience looks like. You never see Paolo Malidini doing overhead kicks in his own corner.
36′ Morris hits the bar! He nearly makes up for his error by meeting a deep cross, but remains unredeemed due to the metalwork. Got to feel sorry for him. But then again he should have looked before playing that ball.
-It was Morris. He saw Chickhaoui coming and played it back to Joseph, but didn't see Dos Santos waiting to pounce. Very Titus Bramble.
32′ GOAL!!! Dos Santos makes it three. Horrible backpass from Norris (?) plays him straight through. Dos Santos goes round the keeper and rolls it in.
30′ GOAL! The lull is over. Ben Saada mis-hit a shot, Dos Santos reacted first and found the post with a pacy strike and then Ben Saada was first there to benefit when it bounced back.
28′ While there's a bit of a lull in the action just want to to take a moment to praise the commentator on the JumpTV/Telesud/Ghana2008.tv coverage. He's done every single game solo and never gets boring. He's really good at constantly telling you who's got the ball and what just happened, which is especially important for someone like myself who's not familiar with all the players. Well done sir.
23′ Zuma looked to have beaten Jaidi to a long ball, but after the pair are done groping each other like young lovers Jaidi manages to clear with a slide tackle.
21′ Modise puts in a great cross from a free kick, but Chikhaoui does a bit of defending and heads it out. All Bafana Bafana right now.
19′ Great skills from Modise in midfield, he turns and finds Pienaar, who plays Fanteni through on goal. It's offside, but Fanteni doesn't know that. He goes round the keeper then shoots over the bar. He's probably very glad to see the offside flag in retrospect.
15′ Chabangu shoots from distance but it's well over. For some reason I quite like this South Africa kit. Maybe becaue it's the first non Puma indenti-kit of the day? Seriously, all those Puma kits are the same design, just different colours. That says lazy manufacturer to me.
13′ Pienaar causes danger with a low cross, Jaidi makes a mess of it (again!) but another Tunisian defender clears up for him. Jaidi should be better than this.
It came from a Ben Saada cross. Now let's hope Lemerre doesn't get all scared and get everyone behind the ball like he did against Senegal.
8′ GOAL! Dos Santos scores with a diving header. 1-0.
7′ Chikhaoui shows a bit of what he's got by beating a couple of players to cross. Mokoena clears.
3′ Tunisia start with three corners but South Africa survive.
0′ Kick-off.
-Lineups: Tunisia make four changes. Pienaar keeps his place ahead of Van Heerden.
South Africa: 16-Moeneeb Josephs; 3-Tsepo Masilela, 5-Nasief Morris, 13-Benson Mhlongo, 19-Bryce Moon; 4-Aaron Mokoena, 12-Teko Modise, 10-Steven Pienaar, 14-Lerato Chabangu; 15-Sibusiso Zuma, 21-Thembinkosi Fanteni
Tunisia: 1-Hamdi Kasraoui; 3-Karim Hagui, 13-Sabeur Ben Frej, 15-Radhi Jaidi, 18-Yassine Mikari; 8-Mehdi Nafti, 12-Joahar Mnari, 7-Chaouki Ben Saada; 21-Mejdi Traoui, 9-Yassine Chikhaoui, 11-Francileudo dos Santos
-Tunisia players not so vocal. My guess is that they sing like angels and don't want to embarrass the South Africans with their superior musical talent.
-National anthems, Bafana Bafana singing loud and proud. If not in harmony.
Preview
Scout Report – South Africa
South Africa looked strong in the second half while chasing the game against Angola, and got the 1-1 draw they deserved. But today they face (arguably) tougher opposition so will need to find another gear. We'll see whether Elrio Van Heerden's superb equalizer was enough to earn a first team spot, but it's likely that Steven Pienaar- the man Ven Heerden replaced – will get a second chance to impress. In goal Rowan Fernandez is still injured so Moneeb Josephs keeps the gloves for a second game.
Scout Report – Tunisia
Come on Tunisia, wake up! The Carthage Eagles were one of the teams I was most looking forward to seeing before the tournament, the talents of Yassine Chikhaoui especially. But that early flowing goal Tunisia got against Senegal seemed to force Roger Lemerre back into his defensive shell and that was it for Tunisia's attacking play. Chikhaoui was hardly in the game. Against slightly weaker opposition let's hope Lemerre grows a pair and lets his attacking players do their jobs. Amine Chermiti is still suspended, so it should be a forward pairing of Chikhaoui and Silva Dos Santos.
Team Blogs: Andreas and Naeem follow Bafana Bafana on the South Africa blog, while Rami is all about the Carthage Eagles on the Tunisia blog.
Streams: Try this. For a complete guide to steaming read this and to sign up for a proper paid service read this.
Subscribe

International Football News – World Cup Blog RSS Feed

Share
blog comments powered by Disqus