Sepp Blatter Wants to Run African Players Into the Ground
January 19th, 2008 | by: Daryl |

View Comments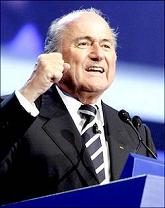 FIFA President Sepp Blatter was at it again yesterday, opening his big mouth to make wacky football-related proclamations. His latest idea is that the African Cup of Nations should move, preferably to the summers in odd numbered years to avoid clashing with the World Cup and the Euros. This is part of his long-talked about, little acted on promise to get all of football on a harmonious world football calendar.
Seems Blatter isn't interested in the Confederation of African Football's recent announcement that the African Cup of Nations is not moving to summer because of the weather in much of Africa during those months. But worse than that is Blatter's nonsensical argument that his way is better for the players. Brace yourselves…
Sepp's theory goes like this:
They have to consider the issue of having African players in the best shape for the World Cup and, to do so, it would be important to take away from them the stress of having to play in a Nations Cup the same year. In 2010 the best African player will fight to be the African champions in the Nations Cup in Angola and so will have to climax their condition at this time.

Then they have to return to their clubs in Europe to play in the Champions League, the UEFA Cup or even fight with their clubs to avoid relegation. Then they will again have to raise their conditioning for the World Cup. Maybe they will be a little tired. Maybe it is better to play the Nations Cup every odd years in the off-season.
Really Sepp? Really?
You really think it would help players to play a full season with their clubs, with all the Champions League, UEFA Cup and relegation dogfights that involves, then to play in an African Cup of Nations tournament in say the summer of 2009, then to go straight back into a full domestic season, then to play in the 2010 World Cup, then to play in another full domestic season, and then to play in an African Cup of Nations 2011? To play three full seasons with no break whatsoever?
Because I don't.
Subscribe

International Football News – World Cup Blog RSS Feed

Share
blog comments powered by Disqus