The Africa Cup of Nations Quarter-Finals Look Like This…
January 31st, 2008 | by: Daryl |

View Comments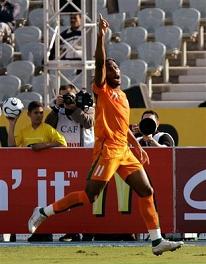 Ladies and gentlemen, boys and girls, the group stage of the Africa Cup of Nations is over. Finished. No more worrying about goal difference, head to head results or who has the better Fair Play record. Now it's juts winners go forward, losers go home. Here are the match-ups.
Ghana vs Nigeria (Sunday, February 3rd, 17:00) Accra
Cote d'Ivoire vs Guinea (Sunday, February 3rd, 20:30) Sekondi
Egypt vs Angola (Monday, February 4th, 17:00) Kumasi
Tunisia vs Cameroon (Monday, February 4th, 20:30) Tamale

Ghana vs Nigeria is arguably the game not to miss. Both seem to have hit form and both will be well supported. Guinea will struggle against Cote d'Ivoire, especially with Pascal Feindouno still suspended. Egypt vs Angola pits the Africa Cup of Nations holders against the team that are likely everyone's favourite underdogs now. This is Angola's first time playing knockout football in a major tournament. Tunisia vs Cameroon will feature plenty of big names and could go either way.
So here's looking forward to Sunday. Any predictions?
Subscribe

International Football News – World Cup Blog RSS Feed

Share
blog comments powered by Disqus