Ghana vs Cote d'Ivoire – Africa Cup of Nations 3rd Place Playoff LiveBlog
February 9th, 2008 | by: Daryl |

View Comments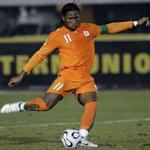 Do we really need to be LiveBlogging the third place playoff? Maybe not. But today's game should be better than most, with two teams who probably maybe sort of expected to meet in the final instead of a day earlier. Ghana are still the hosts so they'll want/need to finish on a high for the home fans, while Cote d'Ivoire still have so much talent they're worth watching whatever the occasion.


Ghana 4-2 Cote d'Ivoire
Muntari 10′ – Sanogo 23′, 31′
Owusu Abeyie '70
Agogo 80′
Draman 83′
Third Place Playoff
Date: Saturday, February 9th
Kick-off: 1700 GMT (1200 EST)
Venue: Baba-Yara Stadium, Kumasi
Thanks to anyone who read and to Pedro in particular for keeping me company in the comments. Very slow paced game of football, but we saw six goals and a friendly atmosphere, so it's not all bad. Check back tomorrow for the big one, as we LiveBlog Egypt vs Cameroon in the Africa Cup of Nations final.
FULL-TIME Ghana win 4-2 and get the bronze medals.
90+ Le Roy gets his wish. Addo off, Barusso on. That was worth it.
90+ Claude Le Roy is either dancing to some disco or desparately calling to make a sub before the whistle goes.
90+ Three minutes of stoppage time to go here.
83′ GOAL! Draman makes it 4-2. He ran at the defence and let go of a shot from outside the area. It hit the floor and took a massive bounce in front of Kone, bouncing over the poor keeper who had dived the right way, just not high enough. Richard Kingson is doing some awkward looking forward rolls to celebrate.
80′ GOAL! Junior Agogo breaks the offside trap, does a shuffle in front of Kone and then rolls it past him. 3-2 to Ghana. Tiene was the man to blame for playing Agogo onside. All the Cote d'Ivoire defenders stepped up, Tiene stayed back.
79′ Gervinho gets a bit of revenge by wrongfooting Paintsil on the edge of the box but shooting just over.
77′ Paintsil disposses Gervinho then does Boka with a nice quick change of feet, but it doesn't go anywhere.
75′ Players being troubles by the rubbish-burning problem again. If you haven't heard about this before, the local residents all burn their rubbish around the same time every evening and the toxic ashes usually float into the stadium. Probably not the first thing players want, but there's not much they can do about it.
72′ Kalou comes off for the young Gervinho. This kid has been much hyped and will captain the Cote d'Ivoire Olympic squad in the summer. You gotta be good to get a Brazilian style nickname, right?
70′ GOAL!!! Owusu-Abeyie finally delivers on some of his potential. He burns down the left and cuts inside to confidently fire it past Kone. 2-2.
68′ Owusu-Abeyie sends a looping cross into Agogo who takes it on his chest and volleys. Shot blocked by a defender though.
59′ Still waiting for some real action here. A nice little one two between Quincy Owusu-Abeyie and Junior Agogo nearly fits the bill but it's cut out by some steadfast Cote d'Ivoire defending.
51 Very slow start to the tournament. A Draman cross nearly finds Muntari, but Kone plucks it out of the air.
45′ Second half is go.
HALF-TIME It's 2-1 to Cote d'Ivoire at the whistle. None of the players seem to worried about winning, but it's been a decent kickabout so far.
37′ Drogab does Mensah for pace and gets to the byline. He squares it for Sanogo who hits the bar. Very very nearly a hat-trick there for Sanogo.
31′ GOAL!!! Kingson saves from Drogba again with his feet but Sanogo pokes in the rebound. 2-1 Cote d'Ivoire.
30′ Kingson makes two reflex saves, from Kalou and then Drogba. Good work sir.
26′ Mensah's overhead kick goes up in the air and Addo heads at goal. But Kone catches for Cote d'Ivoire.
23′ GOAL!Tiene plays a through ball for Sanogo, who outmuscles John Mensah* before slotting past Kingson. 1-1.
*not easy
16′ Kingson plays on. But Baffour Gyan is now leaving on a stretcher. He already had his left wrist taped up earlier and now he's taken another knock. I don't think he'll be back.
12′ Kingson is down. Looks like he pulled something trying to collect the ball. Mayeb Le Roy was right to say there isn't enough time between the semifinals and the 3rd place playoff?
10′ GOAL!!! Sulley Muntari hits a free kick with the outside of his left foot and it flies into the top right corner. Kone dived and everything but he had no chance. 1-0 Ghana.
5′ Drogba sends Kalou through, Kingson comes out and saves one on one. The rebound lands at Kalou's feet with just John Mensah between himself and the goal, but Kalou unselfishly but unsuccessfully tries to square it to Sanogo.
Lineups:
Ghana: Kingson, Addo, Mensah, Paintsil, Sarpei, Annan, Draman, Essien, Agogo, Gyan (I think B.), Muntari
Cote d'Ivoire: Kone, Boka, Zoro, Fae, Romaric, Tiene, Zokora, Drogba, Kalou, Keita, Sanogo
0′ Here's hoping for a feast of friendly football (which looks on the cards) and not a no-one-cares paint drying contest.
-We're going to take this LiveBlog nice and easy and enjoy the football here.
-The Ghanaian national anthem was sung bu the fans too. Everyone's happy, this is great! Essien and Drogba share a big hug before the game.
-We're about five minutes from kick off here. Seems someone lost the tape/cd/mp3 of the Cote d'Ivoire national anthem, so the crowd played a bit of it on their trumpets. Great work fans.
Preview
Scout Report – Ghana
The Black Stars have been great to watch throughout the tournament, with the midfield especially packed with talent. Michael Essien has been his usual unstoppable self, Sulley Muntari has taken a step up in my books, with his left looking lethal from both set pieces and open play. Anthony Annan has come in and done well, while Laryea Kingston, Andre Ayew and Quincy Owusu-Abeyie have all impressed in spells out wide.
But despite the quality supply line, Ghana have found goals frustratingly hard to come by. Both Junior Agogo and Asamoah Gyan have put in lively hard-working performances, but neither has come close to looking anything like clinical. Ultimately this is why they went out in the semi-finals.
Scout Report – Cote d'Ivoire
Ghana were devastated not to make the semi-final, but Cote d'Ivoire looked shocked. Shocked to lose and shocked to concede four goals. Without the pride of being the host nation we'll have to wait and see exactly how motivated the Elephants are for this one.
Streams:
http://livefooty.doctor-serv.com/sat9.2/Ghana_CoteDIvoire.html
http://livefooty.doctor-serv.com/sat9.2/Ghana_CoteDIvoire2.html
http://www.myp2p.eu/broadcast.php?matchid=6070&part=sports
If you're confused about streaming then read our complete guide here.
Or you can cough up some cash and subscribe to a reliable service here.
Subscribe

International Football News – World Cup Blog RSS Feed

Share
blog comments powered by Disqus