Complete Africa Cup of Nations Groups, Fixtures/Schedule and Team Previews
January 19th, 2008 | by: Daryl |

View Comments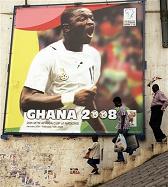 Africa Cup of Nations kick-off is close and team previews are complete. So please find below all the World Cup Blog team previews organized by group, as well as the fixtures/schedule for the tournament.
Just click on any team name to access the World Cup Blog Africa Cup of Nations preview …
Group A
Ghana
Guinea
Morocco
Namibia
Group B
Benin
Côte d'Ivoire
Mali
Nigeria
Group C
Cameroon
Egypt
Sudan
Zambia
Group D
Angola
Senegal
South Africa
Tunisia
---
And here are the fixtures/schedule. All kick-off times are local.
UK and Ireland kick-off time is identical.
+1 hour for Central Europe.
-5 hours for US Eastern.
-8 hours for US Pacific.
---
Group A
Ghana vs Guinea (January 20th, 17:00) Accra
Namibia vs Morocco (January 21st, 15:00) Accra
Guinea vs Morocco (January 24th, 17:00) Accra
Ghana vs Namibia (January 24th, 19:30) Accra
Ghana vs Morocco (January 28th, 17:00) Accra
Guinea vs Namibia (January 28th, 17:00) Sekondi
---
Group B
Nigeria vs Cote d'Ivoire (January 21st, 17:00) Sekondi
Mali vs Benin (January 21st, 19:30) Sekondi
Cote d'Ivoire vs Benin (January 25th, 17:00) Sekondi
Nigeria vs Mali (January 25th, 19:30) Sekondi
Nigeria vs Benin (January 29th, 17:00) Sekondi
Cote d'Ivoire vs Mali (January 29th, 17:00) Accra
---
Group C
Egypt vs Cameroon (January 22nd, 17:00) Kumasi
Sudan vs Zambia (January 22nd, 19:30) Kumasi
Cameroon vs Zambia (January 26th, 17:00) Kumasi
Egypt vs Sudan (January 26th, 19:30) Kumasi
Egypt vs Zambia (January 30th, 17:00) Kumasi
Cameroon vs Sudan (January 30th, 17:00) Tamale
---
Group D
Tunisia vs Senegal (January 23rd, 17:00) Tamale
South Africa vs Angola (January 23rd, 19:30) Tamale
Senegal vs Angola (January 27th, 17:00) Tamale
Tunisia vs South Africa (January 27th, 19:30) Tamale
Tunisia vs Angola (January 31st, 17:00) Tamale
Senegal vs South Africa (January 31st, 17:00) Kumasi
---
KNOCKOUT STAGE:
Quarter Finals
1st A v 2nd B (February 3rd, 17:00) Accra
1st B v 2nd A (February 3rd, 20:30) Sekondi
1st C v 2nd D (February 4th, 17:00) Kumasi
1st D v 2nd C (February 4th, 20:30) Tamale
Semi-Final
Winner of Accra quarter final vs winner of Tamale quarterfinal (February 7th, 18:00) Accra
Winner of Sekondi quarterfinl vs winner of Kumasi quarterfinal (February 7th, 20:30) Kumasi
Third Place Playoff
Semi-final losers (February 9th, 17:00) Kumasi
Final
Semi-final winners (February 10th, 17:00) Accra
Subscribe

International Football News – World Cup Blog RSS Feed

Share
blog comments powered by Disqus