Cameroon vs Tunisia – Africa Cup of Nations Quarterfinal LiveBlog
February 4th, 2008 | by: Daryl |

View Comments
We know who three of our semi-finalists are (Ghana, Cote d'Ivoire, Egypt) and now we find out who joins them. It's Cameroon vs Tunisia, Indomitable Lions vs Carthage Eagles.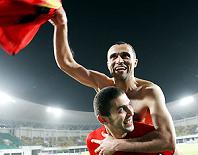 Cameroon 3-2 Tunisia AET
Mbia 18′, 92′ – Ben Saada 33′
Geremi 26′ – Chikhaoui 80′


Quarterfinal
Date: Monday, February 4th
Kick-off: 2030 GMT (1530 EST)
Venue: Tamale Stadium, Tamale
Thanks to everyone for reading and commenting. Hope Tunisia fans can take some comfort from an impressive performance, though they're desparately unlucky not to be in the semi-finals. I'm not convinced that the best team won here today.
WCB Man of the Match: Tough call, but Ben Fredj was impressive at right back after coming on as a sub for Tunisia.
FULL-TIME It's all over. Cameroon win 3-2 after extra time and will face Ghana in the semi-final. Tunisia gutted obviously, but they were excellent and this was an outstanding game of football.
120′ Whistle is coming any second.
118′ Chermiti recieves a pass from Chikhaoui in the area and goes down under a tackle. Again, nothing from the ref. Then a cross finds Jaidi alone in the area. He fails to control it but doesn't matter as he's offside anyway.
117′ Epalle gets down the right and finds Idrissou with a through ball, but the big man is offside.
113′ Eto'o clashes with Ben Fredj and seems to give him a little headbutt. Again the ref does nothing. This ref will let you do anything! If I was a Tunisia player I'd just pick the ball up with my hands and run for goal. He wouldn't mind.
112′ Chermiti with a not very clever and not very productive challenge on (possibly) Tchato. Lucky not to get booked.
109′ Corner comes in and Chermiti goes down in the area. Seems Bikey is being told to calm down by his own players, but there's no penalty. Replay of that would be interesting to say the least.
106′ Chikhaoui fouled. Ben Saada's free kick blocked.
105′ We're off again.
105′ First half of extra-time is over. If Chermiti is going to do anything then sometime in the next 15 minutes would be good.
99′ Chikhaoui clashes heads with Bikey and comes off worse. No subs left for Tunisia though.
98′ Tunisia have three corners in a row, but Kameni catches the third one to settle some Cameroonian nerves.
96′ Mbia gets another header at goal, but well wide.
94′ Now Tunisia have to do it all again.
92′ GOAL!!! Mbia steers a volley low into the bottom right corner after one of those big throws was nodded on by Appale. 3-2 to Cameroon.
ET 90′ We're underway. Please no penalties.
90+ End of 90 minutes. We're going to have our first extra-time period with both teams looking very tired already.
89′ Two minutes of injury time. And then likely thirty more minutes of extra time.
87′ Bikey heads at goal from a corner, but looked like it his own man. Fantastic game of football here.
85′ An exhausted Dos Santos subs out for Amine Chermiti. Traoui's long ranger is caught by Kameni.
83′ Idrissou robs Ben Fredj in a dangerous spot but fires in a high cross instead of rolling it across the floor for Eto'o. That's why Idrissou is only trusted with headers.
82′ Extra-time could be on the way.
-Rigobert Song had given away an easily avoidable corner, which found it's way to Ben Fredj on the right. Ben Fredj got to the byline and cut it back to Chikhaoui in the box to strike it past Kameni.
80′ GOAL!!! Chikhaoui evens it up!
78′ Two Cameroonians converge on Chikhaoui and try to make a playmaker puree out of him.
- Fifteen minutes left for Tunisia.
75′ Cross comes in and Bikey directs it back to his keeper. Big shout for handball in the box and Tunisia definitely have a case, but the free kick goes the other way. Replay is inconclusive.
72′ !!! Eto'o was away but a Tunisian defender produced a mammoth sliode tackle that resulted in Eto'o on his arse but still with the ball. He tried to poke it to Idrissou but somehow nutmegged him. If Eto'o had released the ball earlier Idrissou had a free shot at goal.
70′ Tunisian sub, Nafti (defensive mid) out and Jomaa (striker) in. Wonder if we'll see Amine Chermiti this evening?
69′ Very calm defending from Atouba. He pulled a Cruyff on the edge of his own box and got Cameroon going. The Indomitable Lions are now getting a lot more ball in Tunisia's box and the fresh legs are working.
65′ Jean II Mokoun off for Binya. Tunisia still have 25 minutes plus whatvere the ref adds on.
63′ Nice skills from Chikhaoui out wide, but Idrissou (possibly annoyed that he'll never have moves like that and will only ever be allowed to attack balls with head) chops the Tunisian down.
61′ Emana is off for Epalle. Emana not as influential outwide as he was through the middle in previous games
57′ Eto'o comes very close to getting a shot at goal but Tunisian defenders pile in front of him and block his effort. If this was the other, less interesting, form of football then we could say they are blitzing Eto'o. But it's not, so we won't.
55′ There was a lengthly-ish stoppage after an injury to Chikhaoui and that seems to have taken some of the winds out of Cameroon's sails.
51′ Chikhaoui gets sandwiched between two defenders and goes down. Looked like a decent shout for a penalty but the ref isn't interested.
50′ Tunisia start the second half as they finished the first. Dos Santos has come close and Tuniai continue to launch crosses in.
45′ Second half is underway. No substitutions from either team.
HALF-TIME Cameroon lead 2-1 but Tunisia have been on top ever since Ben Saada's free kick. Can't. Wait. For the second half.
- One minute of added time but I'll bet Tunisia would rather keep going. Cameroon are all over the place. In a bad way.
44′ Kameni had the ball at his feet but panicked under pressure from Chikhaoui and kicked it straight at Dos Santos in his own box. Cameroon's defenders somehow recover and get it away. From the sublime to the ridiculous for Kameni.
41′ Wow! Ben Fredj gets forward from right back and sends Dos Santos through on goal. Dos Santos hits the bar and the rebound goes to Ben Saada. He should have an open goal to shoot at but somehow Carlos Kameni gets up and scrambles across goal to make the save.
38′ Defensive switch for Tunisia. Haggui off, Ben Fredj on. Carthage Eagles will miss Haggui.
35′ Jaidi nods one down to Dos Santos and the little BraTunisian goes very very close with a volley on the turn.
33′ GOAL! And there it is. Something special. Ben Saada takes a left footed free kick and bends it inside the near post. 2-1 and now we have a game again.
26′ GOAL! Geremi bends in a free kick from a very long way away. That's his second of the tournament and he made it look too easy. 2-0 to Cameroon. Tunisia are going to have to pull out something special now.
22′ Eto'o pulls out a nice half-Cruyff half-backheel turn to beat Naggui, but Naggui manages to get back in his way. Nice to see a few tricks from Eto'o and Chikhaoui though. More please.
-Tunisia were appealing for a handball and may have a point. Hard to see exactly what happened but Mbia's goal was too awkward to be all head. There's definitely another body part involved, just can't telll whether it's chest, neck or hand.
18′ GOAL!!! Stephane Mbia arrives in the six yard box to head home for Cameroon! 1-0.
17′ Traoui swings in a free kick but Kameni puches it so far that it turns into a Cameroon breakaway. Emana sets Eto'o free, but Tunisia have two defenders on him.
15′ It's Atouba with the big throw. It's like having a corner. He's looking for Idrissou's height every time.
13′ Cause and effect: Emani takes the ball from Nafti, Nafti takes Emani's legs from under him, the referee takes Nafti's name in his book.
10′ Idrissou gets a chance in the area but Kasraoui throws himself in front of it like Kevin Costener does for Whitney Houston in The Bodyguard. Traoui clears. End to end action so far.
9′ Chikhaoui robs Geremi in his own are, sells Bikey a stepover and shoots. He's either just wide or Kameni gets just a fingertip to it. Great stuff from Chikhaoui though. I'm predicting a big day for this guy.
8′ Big throw-in from Cameroon. Not sure who's taking those, but I wouldn't like to arm wrestle them.
7′ Mbia is down after Traoui mistook his knee for the ball.
5′ Jean II Makoun meets a cross at the far post but nods it just wide. The way he's played so far, Makoun is lucky to start today. He could have done with that goal to justify his inclusion.
3′ Lively enogh start with Cameroon doing more attacking. Looks like Emana is playing wide right rather than as a playmaker, with Idrissou partnering Eto'o up front.
0′ We're underway.
Lineups:
Cameroon: Kameni; Geremi, Song, Bikey, Atouba; Emana, Makoun, Song Billong, Mbia; Eto'o, Idrissou
Tunisia: Kasraoui; Haggui, Jaidi, Bekri, Felhi; Nafti, Mnari, Traoui, Ben Saada; Chikhaoui, dos Santos
- National anthems are done and handshakes are being exchanged. So kick-off can't be far away.
Preview

Scout Report – Cameroon
Well, Samuel Eto'o is obviously Cameroon's man to watch. His injury doesn't seem to be giving him any problems and the man is in goalscoring form. But Tunisia boss Roger Lemerre has warned his players not to focus too much on the Barcelona striker and remember the Indomitable Lions have more than one player. Geremi is useful with a free-kick and Achille Emana has emerged as the midfield playmaker, with young Alexendre Song replacing Jean II Makoun as the enforcer.
Scout Report – Tunisia
Though Tunisia don't have a Samuel Eto'o, they do have a Yassine Chikhaoui. The FC Zurich man is yet to really catch fire, but of he does then he's creative enough to give Cameroon's defenders a tough time. Silva Dos Santos found his scoring boots against South Africa and (according to a reliable source) will likely partner Chikhaoui, with teenage-sensation-in-waiting Amine Chermiti back on the bench.
Streams:
http://www.myp2p.eu/broadcast.php?matchid=5790&part=sports
http://livefooty.doctor-serv.com/mon4.2/Tunisia_Cameroon.html
http://livefooty.doctor-serv.com/mon4.2/Tunisia_Cameroon2.html
If you're confused about streaming then read our complete guide here.
Or you can cough up some cash and subscribe to a reliable service here.
Subscribe

International Football News – World Cup Blog RSS Feed

Share
blog comments powered by Disqus