Cameroon vs Egypt – LiveBlog
January 22nd, 2008 | by: Daryl |

View Comments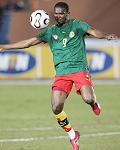 This is a LiveBlog of the earlier January 22nd Group C match between Egypt and Cameroon. Click here for the Egypt vs Cameroon Africa Cup of Nations Final LiveBlog.
Egypt stun Cameroon. Not by winning but by winning so convincingly. Mohamed Zidan is the man of the moment with his two goals.
Cameroon 2-4 Egypt
Eto'o 49′,90′(pen) – Hosny 14′(pen,) 81′, Zidan 17′,45′
FULL-TIME
90+ GOAL! Eto'o scores a penalty for Cameroon, but it's too little too late.
81′ GOAL! Aboutreika sets up Hosni who fires a long range effort past Kameni. Stick a fork in this game. It's done.
49′ GOAL! Eto'o! Eto'o heads in a Geremi cross. 3-1.
48′ A. Song plays a pass straight out for a throw-in. Bet Pfister's glad he bought him on!
46′ Just learned that Cameroon have made 19 fould to Egypt's 7. Good knowledge.
45′ Second half is underway…
Alexandre Song (Arsenal) and Emana are on for Cameroon. That's all their subs made now. Cameroon are going to need to start well.
We're seeing great footage of the Cameroon players talking in the tunnel. Eto'o seems to be telling everyone how they should play.
HALF-TIME: Wow. Just wow.
45′ + Samuel Eto'o tries a desparate shot from distance but it's off target.
45′ GOAL!!!!!!!! Zidan strikes an absolute screamer from outside the area that goes in the top right corner. 3-0 Egypt and Cameroon's half time team talk just got even more depressing.
44′ Zaki striker a free kick from distance but it goes over. Very very over. Like a field goal (NFL fans) or a penalty (rugby fans.)
40′ More Cameroon pressure comes to nothing. They look short of ideas going forward. Just an endless stream of not particularly good crosses.
38′ Otto Pfister makes a change: Defensive midfielder Jean II Makoum is off for striker Binya. Clearly Pfister feels Cameroon need to step it up a gear.
37′ Atouba marauds down the left flank and beats his fullback twice before crossing to no one.
33′ Egypt catch Cameroon on the break again but Rigobert Song cleans up. Samuel Eto'o making gestures for his midfield to get closer to him. The Barcelona man has done nothing so far.
30′ Cameroon looking short of ideas as Egypt stroke it around.
26′ With this start from Egypt and Morocco's 5-1 win yesterday, should we be taking North African sides a lot more seriously as potential winners?
24′ Cameroon apply some pressure, but a series of crosses are dealt with comfortably be Egyptian heads and feet.
21′ Idrissu floats in a nice looking cross but no Cameroon player seems interested in meeting it. Egypt counter attack quickly and are up the other end within seconds.
18′ Egypt showing everyone one that they're serious about defending this trophy. Some nice possession football.
17′ GOAL!!! And it's 2-0! Cameroon attack breaks down and Zidan scores on the breakaway. His pace takes him beyond Cameroon's defence and he slots it past Kameni.
14′ GOAL! Hosny scores the penalty. 1-0 Egypt.
12′ And we have action straight away. Bikey gives away a penalty.
10′ Sorry for the late start folks. Couple of technical difficulties but we're underway. Starting line ups:
Egypt: El Hadari, Fathallah, Moawad, Gomaa, Hany Said, Fathi, Abd Rabou, Shawky, Zidan, Moteab, Zaki.
Cameroon: Kameni, Song, Bikey, Atouba, Geremi, Makoun, N'Guemo, Epalle, Mbia, Idrissou, Eto'o.
Preview
The Big Picture.:. Group C. Egypt v Cameroon. Pharaohs v Indomitable Lions. Kumasi. 17:00 kick-off, local time (17:00 GMT, 18:00 CET, 12:00 EST, 09:00 PST)
This match is nearly as big as yesterday's Nigeria v Ivory Coast matchup. Defending champs Egypt match up with one of Africa's consistently best teams, Cameroon, headed by one of the biggest figures at the games in Samuel Eto'o. Egypt returns most of the team which took care of business back in 2006, and although they aren't among the favorites to conquer Ghana, anything is possible.
Scouting.:.
Egypt: The Pharaohs are very much a home based team, with all but 6 players plying their trade in Egypt. They're missing Hossam Ghaly and Mido, which is big from a talent standpoint, not so much from a team chemistry standpoint. Essam El-Hadary has suffered a minor ankle knock and is questionable for the game, which is big, because he's one of the best keepers the continent has to offer. Mohamed Zidan is a helluva talent, but has been mainly used off the bench for HSV lately. Captain Ahmed Hassan was Player of the Tournament in 2006, but will be sitting this game out with a suspension. He'll be back to play Sudan on Saturday, but The Pharaohs really need him today. Mohamed Aboutreika – the "Egyptian Zidane" and "Smiling Assassin" – will provide some gifted attacking, but Egypt will still miss Hassan. Wael Gomaa and Mahmoud Fathalla get the unenviable task of spying on Samuel Eto'o all day.
Egypt team preview
Game preview from our Egypt blog
Cameroon: The Indomitable Lions have one of the best young keepers in the world in Idriss Kameni. The back is patrolled by a mix of young talent and veteran know-how in Rigobert Song, Andre Bikey, Geremi and Thimothee Atouba. The center of the pitch will be held down by Jean Makoun, a former Fergie fave, and Achille Emana, one of Ligue 1's rising talents. Arsenal super talent Alex Song could make a dent, if things go well. And then there's the phenomenon known as Papa Eto'o.
Cameroon preview
Game preview from Cameroon blog
Team Blogs.:. Tamim heads up the Egypt blog, and Chris makes the occasional cameo over at the Cameroon blog.
Streaming.:.
Egypt v Cameroon here
Subscribe

International Football News – World Cup Blog RSS Feed

Share
blog comments powered by Disqus