African Cup of Nations Preview: Guinea
January 6th, 2008 | by: Daryl |

View Comments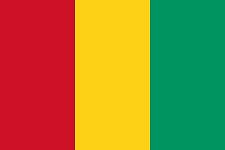 It's now 14 days until African Cup of Nations kick off and there are still 14 teams to preview. We've already been introduced to Ghana and Morocco so now it's time to meet the third member of Group A: Guinea, a nation of contrasts.
Guinea came thisclose to winning the African Cup of Nations in 1976 but then failed to make another impact on the tournament until 2004. Guinea also has an odd love/hate relationship with FIFA, being banished to the international wilderness in 2002 but now hailed by Sepp Blatter and co as the third best team in Africa. They also have fantastic attacking talent but no goalkeepers, which if nothing else should make Guinea's games fun to watch. So come on in and meet the Syli Nationale.

Nickname: Syli Nationale
Bonus Knowledge: "Syli" is a Guinean word meaning "elephant" and also the name of a former national currency that was replaced by the Guinean franc 1985. God bless you Wikipedia.
Jersey: Red shirt, yellow shorts, green socks (home.) All white (away.)
Geography: " The Republic of Guinea, on the west coast of Africa is bordered to the north by Senegal and Mali and on the east by Mali and the Ivory Coast, on the south by Liberia and Sierra Leone, on the west by the Atlantic Ocean and on the northwest by Guinea-Bissau." – The Africa Guide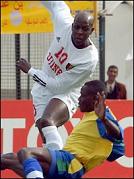 History: Guinea were strong in the 1970s, finishing runner-up to Morocco in the 1976 African Nations Cup. Rather than a final, the 1976 tournament had a final group stage of four teams. Guinea played Morocco in the final game of the group needing a win to take the trophy, Morocco needing only a draw. Guinea led 1-0 through Chérif Souleymane's first half goal, but with the final whistle approaching Ahmed "Baba" Meghrouh equalised for Morocco and won them the trophy. After coming so close it all went downhill. Guinea failed to qualify for the 1978 African Cup of Nations, qualified and came home early in 1980 and weren't heard from again for the rest of the decade that fashion forgot. Titi Camara (pictured, Liverpool and West Ham fans should remember him) came along in the early '90s and his skills took Syli Nationale to the 1994 and 1998 African Cup of Nations.
But then Guinea hit an all time low in 2002 when the team was disqualified from African Cup of Nations and World Cup qualification for government interference in the national football association. After getting that straightened out Guinea came back strong and made the quarterfinals of the last two African Cup of Nations (2004 and 2006.)
Guinea are yet to qualify for a World Cup, which I'm guessing is the main reason few outside of Africa are familiar with the team.

Manager: Yet another Group A team with an experienced French manager. Robert Nouzaret has seemingly managed every club in France (including three spells at Montpelier) and has also twice coached the Ivory Coast. It is entirely possible that Nouzaret only agrees to manage African teams with elephant-related nicknames.
FIFA World Ranking: 33. Guinea are currently the third highest ranked African team (after Nigeria and Cameroon) probably due to their strong showings at the 2004 and 2006 African Nations Cups and all the points they picked up in ACN 2008 qualification.
Expectations: Despite Guinea being highly ranked by FIFA, not many would back them to win the African Cup of Nations. It's almost as if the FIFA World Rankings are unreliable for the purpose of actually ranking nations or something…
Robert Nouzaret is talking up his teams chances though. He flicked through a big book of football clichés before announcing
that "I know that we will be up against teams that are stronger than us on the paper but we are not going to the Nations Cup to make up the numbers."
Pros: Nouzaret has been there, done that and got all kinds of t-shirts. His squad is composed of mostly European based players, including biggish names like solid Celtic centre-back Bobo Balde, captain and playmaker Pascal Feindouno (more about him below under Player to Watch…) and a nice selection of strikers. Souleymane Youla and Fodé Mansaré are both carving out respectable careers in French Ligue 1, playing for Lille and Toulouse respectively. But Ismaël Bangoura will be the danger man. The 23-year-old cost Dynamo Kiev €10 million when he signed from Le Mans in 2007, and has been making a name for himself in the Champions League with strikes like this one against Manchester United last October.
Cons: Technically gifted right winger Ibrahima Yattara has been left out of the squad, possibly due to his inconsistency and his Michael Owen-like gift for picking up injuries. His absence may be good for stability, but the Trabzonspor man would have added an extra attacking threat. Much will depend on the form of Balde and Feindouno, and injury or suspension for either man would leave a giant, possibly unfillable hole in the team. Guinea are also a little thin on quality goalkeepers. Naby Yattara plays for 3rd division Belgian club RACS Couillet, Naby Laye Diarso is the only squad member to play for a Guinean club while Kémoko Camara doesn't have any club at all. The veteran has been without a goal to keep professionally since leaving South African club AmaZulu. A recent proposed short-term deal with Scottish First Division side Morton didn't work out, so here's hoping Camara impresses someone in Ghana and gets himself a contract.
Player to Watch: Guinea have some exciting attacking talent but I'm most looking forward to seeing Pascal Feindouno in action. The 26 year-old St. Etienne playmaker has great technique and an absolutely fierce right foot. And when I say absolutely fierce, check out this belter from the man himself.
Team Blog? No. But we wish there was one. If you'd like to captain a Guinea blog then don't hesitate to get in touch and we'll make it happen.
Fixtures: In Group A with Morocco, Namibia and Ghana.
Guinea vs Ghana (Accra, January 20th, 17:00)
Guinea vs Morocco (Accra, January 24th, 17:00)
Guinea vs Namibia (Sekondi, January 28th, 17:00)
Squad:
---
Goalkeepers: Kemoko Camara (unattached), Naby Diarso (Satellite FC), Naby Yattara (RACS Couillet, Belgium)
Defenders: Dianbobo Balde (Celtic), Habib Jean Balde (Reims), Alseny Camara (Rodez), Ibrahima Camara (Le Mans), Kevin Constant (Toulouse), Mohamed Alimou Diallo (Sivasspor), Daouda Jabi (Trabzonspor), Oumar Kalabane (Manisaspor), Kamil Zayatte (Young Boys Berne)
Midfielders: Mohamed Cisse (Bursaspor), Pascal Feindouno (St Etienne), Samuel Johnson (Ismaili), Mohamed Sacko (Etoile Sahel), Naby Soumah (CS Sfaxien), Kanfory Sylla (Sivasspor)
Strikers: Ismael Bangoura (Dynamo Kiev), Karamoko Cisse (Verona), Victor Correa (Cherbourg), Fode Mansare (Toulouse), Souleymane Youla (Lille)
---
Subscribe

International Football News – World Cup Blog RSS Feed

Share
blog comments powered by Disqus