Africa Cup of Nations Recap 1.28.08
January 28th, 2008 | by: Daryl |

Comments Off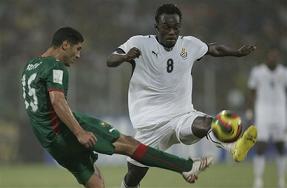 Ladies and gentlemen, Group A has been decided. Ghana finish clear at the top with the 2-0 win over Morocco today making it three wins out of three, and Guinea sneak into second place with a 1-1 draw against Namibia.
---
No doubt who the better team was here. Cheered on by home support, Ghana went at Morocco from the first whistle. Strikers Junior Agogo and poor Asamoah Gyan (who's had to put up with all kinds of abuse lately) failed to score, despite me willing Gyan to put the ball in the net with everything I had. But midfield maestros Michael Essien and Sulley Muntari made up for the strikeforce's shyness, each setting up the other to score. See the goals here.
John Pantsil put the ball past his own keeper for what could-have should-have been Morocco's equalizer, but it was ruled out for either offside or some non-existent foul. But Morocco can't claim to deserve anything from this match. After looking so impressive in their opening 5-1 win over Namibia it's been all downhill.
---
This is the first game from the Africa Cup of Nations that I didn't see, due to the simultaneous kick off. Guinea were without main man Pascal Feindouno after his foolish red card against Morocco but were always in the driving seat having beaten the Atlas Lions. The team failed to put away their chances until Soulemane Youla very calmly rolled the ball just inside the far post just after the hour. But this was another improved performance from Namibia, and their main goal threat (and only Africa Cup of Nations goalscorer) Bryan Brendell popped up to get them an 81st minute equalizer, ensuring Namibia go home with at least a point. See both the goals here.
So Guinea go through in second place, but will likely face Cote d'Ivoire (assuming Drogba and friends top Group B) without Feindoudo, who still has another game of his suspension to serve. I don't fancy their chances.
---
Final Group A table:
Subscribe

International Football News – World Cup Blog RSS Feed

Share
Comments are closed