Africa Cup of Nations Group A Gets Decided Today
January 28th, 2008 | by: Daryl |

Comments Off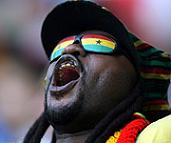 It feels like the Africa Cup of Nations only just started, doesn't it? But – believe it or not – today we begin the end of the group stage. Everyday from today through to Thursday, one of the four groups will be decided. And so that no team has an advantage, both games in each group will kick off simultaneously at 17:00 GMT (12:00 EST.)
Today it's Group A, with Ghana facing Morocco and Guinea taking on Namibia. Ghana are nearly through and Namibia are nearly out, but nothing is certain until the final whistle goes at today's games. Below is the Group A table going into these games, and a quick explanation of who needs to do what to advance. Calculators at the ready…
---
---
If teams are tied on points then the tie-breakers are: head to head results, goal difference, goals scored.
If more than one team is tied then it goes: point scored in games between those teams, number of goals scored in games between those teams. Got it? Me neither. But wait, it gets worse.
If the teams still can't be separated then it comes down to who has the best Fair Play record (least yellow and red cards goes through) and then finally – if all else fails – they draw straws (that's not a joke, they really do.)
---
Here's who needs what in order to qualify:
Ghana are almost there. The only way Ghana doesn't make it is if they lose to Morocco by more than one goal and fail to score twice. Even if that happens they're still safe if Guinea fail to beat Namibia.
Guinea just need to beat Namibia to qualify. Unless Morocco beat Ghana, which would create a three way six-point tie at the top. In that case Guinea need Ghana to lose by more than one goal and score less than two. If Ghana beat Morocco then a draw is good enough for Namibia.
Morocco really need to beat Ghana to qualify, as this would put them level with the host on six points, but give them a superior head to head record. A draw is enough if Guinea lose to Namibia. But if Guinea draw against Namibia, they'll top Morocco due to the better head to head.
Namibia are still alive mathematically. But only mathematically. They need to beat Guinea and hope Ghana beats Morocco. If this happens then Namibia will still only qualify if they somehow have a better goal difference than Morocco, so they would need an obscenely big win over Guinea.

---
You can follow all the action here:
Ghana vs Morocco, Accra, 17:00 – LiveBlog 1700 GMT
Guinea vs Namibia, Sekondi, 17:00 – OpenThread 1700 GMT
Subscribe

International Football News – World Cup Blog RSS Feed

Share
Comments are closed